The October recipient of the Hanley Green Grant was Máirtín De Bhailís. During a new build Máirtín had many things to consider including the Wild Atlantic! See his story below and how the Hanley Green Grant helped him along the way!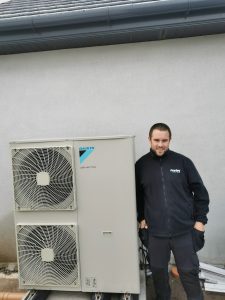 My name is Máirtín de Bhailís and I've worked with Hanley Calibration for 5 years. I am currently working in Viatris, Galway as a Calibration Planner/Scheduler.
I have recently completed a self build on Inis Mór, Aran Islands. Building a house on the edge of the Atlantic meant that it would be hit by all types of weather throughout the year. This meant that myself and partner needed to sit down and decide what areas we needed to really focus on when building the house to make it as efficient and environmentally friendly as possible – mainly in terms of insulation and heating.
We used 110mm solid board Xtratherm insulation (U-value 0.16) in our cavity walls and 150mm Xtratherm for the floors. We also went for triple glazed uPVC windows. We installed mechanical heat recovery ventilation and in order to make sure that the house was as efficient as possible in its heat retention, we used an airtight membrane on the entire external envelope. In the attic, we put 400mm Metac insulation to keep heat loss to a minimum.
In order to reduce our carbon footprint, we wanted a heating system which was as eco-friendly as possible, whilst still providing all of our underfloor heating and hot water needs, this meant us installing a Daikin Air to Water heatpump. We are also hoping to install solar PV panels which will reduce our energy bills as well as our carbon footprint, all the while increasing our BER rating.
The Green Grant initiative provided by Hanley Calibration has greatly helped with the installation costs and I would encourage everyone to get involved!